Usually, when I see a laptop with discrete graphics, it has a bit of extra heft. That's not the case for the Lenovo Slim Pro 7 (tested at $1,199.99), which is thin and fairly light with its AMD Ryzen 7 7735HS and Nvidia GeForce RTX 3050.
The catch, perhaps, is that these parts aren't the fanciest, like what you typically find in some of the best ultrabooks. This Ryzen 7000-series CPU uses Zen 3+ cores, which aren't AMD's latest, and the Nvidia GeForce RTX 3050 is an entry-level GPU from a generation ago. For simple tasks, performance holds up. For more intense, multi-core work, this may not be for you.
Lenovo has a wealth of ports, with both USB Type-C and Type-A on the sides of the device. The keyboard is bouncy and comfortable. But other parts, like the touchpad, feel a bit cheap.
If you need a discrete GPU in a slim form factor, just for a slight boost in graphics power, the Slim Pro 7 is worth considering. Otherwise, it's serviceable, though not necessarily exciting.
Design of the Lenovo Slim Pro 7
The Lenovo Slim Pro 7 isn't making any statements. It's a dark gray aluminum rectangle with rounded corners, and Lenovo's name in teeny print on the lid. It's so plain, in fact, that it would be the perfect movie prop for a production company that couldn't get a licensing deal.
With the lid open, the 14.5-inch screen is surrounded by narrow bezels and a small bump on top to fit the cameras. The chiclet keys look a bit like those on a ThinkPad, but there's no pointing stick here (which is fine with me). 
Lenovo has fit the basic ports you need along the Slim Pro 7's sides. The left side has an HDMI port and two USB Type-C ports. One is USB 3.2 Gen 2, while the other is USB 4 with faster 40 Gbps speeds. They're not labeled, but the bottom one, furthest from the HDMI port, is the faster version of USB-C.
The right side has a USB 3.2 Gen 1 Type-A port for legacy peripherals, as well as a headphone jack. That's also where you'll find the power button and an e-shutter to disable the camera.
The Slim Pro 7 measures 12.81 x 8.92 x 0.61 inches thick, making it ever-so-slightly thicker than Lenovo's Yoga 9i Gen 8 (12.52 xs 9.06 x 0.6 inches. The Samsung Galaxy Book 3 Ultra is 14 x 9.86 x 0.64 inches, while the HP Dragonfly Pro is 12.39 x 8.78 x 0.72 inches.
In a similar fashion, the Slim Pro 7 is the second lightest of the group at 3.6 pounds, while the Yoga 9i is 3.09 pounds. The Galaxy Book 3 is 3.96 pounds, and the HP Dragonfly Pro is 3.53 pounds. 
Lenovo Slim Pro 7 Specifications
Swipe to scroll horizontally
| | |
| --- | --- |
| CPU | AMD Ryzen 7 7735HS |
| Graphics | Nvidia GeForce RTX 3050 (6GB GDDR6, 63 W max graphics power, 990 MHz boost clock) |
| Memory | 16GB LPDDR5-6400 |
| Storage | 512GB M.2 PCIe Gen 4 SSD |
| Display | 14.5-inch, 2560 x 1600, 16:10, 90 Hz touchscreen |
| Networking | MediaTek Wi-Fi 6E MT7922 (RZ616), Bluetooth 5.1 |
| Ports | USB 3.2 Gen 1 Type-A, USB 3.2 Gen 2 Type-C, USB 4 Type-C (40GBps), HDMI, 3.5 mm headphone jack |
| Camera | 1080p, IR, e-shutter |
| Battery | 73 WHr |
| Power Adapter | 140 W |
| Operating System | Windows 11 Home |
| Dimensions (WxDxH) | 12.81 x 8.92 x 0.61 inches (325.5 x 226.49 x 15.6) |
| Weight | 3.5 pounds (1.59 kg) |
| Price (as configured) | $1,199.99 |
Productivity Performance
The Lenovo Slim Pro 7 has the distinction of being the first laptop with a Ryzen 7000 HS series processor to hit our labs. This processor, the AMD Ryzen 7 7735HS, uses eight Zen 3+ cores on a 6-nanometer process with a boost clock of up to 4.75 GHz. Lenovo has paired it here with 16GB of LPDDR5 RAM, a 512GB SSD and an Nvidia GeForce RTX 3050, which is an entry-level GPU that's a generation old.
On Geekbench 5, the Slim Pro 7 achieved a single-core score of 1,527 and a multi-core score of 9,031. That's the second lowest single-core score of the group, which also included the Samsung Galaxy Book 3 Ultra (Core i7-13700H) and Lenovo Yoga 9i (Core i7-1360P); the HP Dragonfly Pro, with a Ryzen 7 7736U, was slightly behind. This chip was the weakest of the group on multi-core.
The Slim Pro 7 copied 25GB of files at a rate of 1,594.91 MBps, handily beating the Dragonfly Pro. Lenovo's own Yoga 9i was a bit faster, while the Galaxy Book 3 Ultra was the fastest here.
The Ryzen chip took 6 minutes and 36 seconds to transcode a 4K file to 1080p, beating both the MacBook Air and Yoga 9i. But the Galaxy Book 3 Ultra, with an Intel H -series chip, took even less time, at 5:26.
On our Cinebench R23 stress test, in which we loop the benchmark 20 times, AMD's new chip started at a score of 12,291.669 and went up from there, spending most of its time in the high 12,900's, and occasionally breaking the 13,000 point barrier (the average score was 12,943.58).The Ryzen 7 7735HS averaged 3.88 GHz and a temperature of 88.1 degrees Celsius (190.58 degrees Fahrenheit).
Lenovo opted for a last-gen RTX 3050 on the Slim Pro 7. On 3DMark Time Spy, it achieved a score of 4,523. That's still better than the integrated graphics from Intel (1,916) and AMD (2,888) in the Yoga 9i and Dragonfly Pro, respectively. But the Samsung Galaxy Book 3 Ultra, with an RTX 4050, had the highest score at 6,208. Granted, the 3050 Lenovo is using here is pretty tame, with a 63 W max graphics power and 990 MHz boost clock. That's far less power than the 4050 on the Galaxy Book is using, but it lets Lenovo fit it in a thin PC.
Display on the Lenovo Slim Pro 7
The 14.5-inch, 2560 x 1600 touchscreen display on the Slim Pro 7 is fine, but it's not amazing. It covers 118% of the sRGB color gamut and 83.7% of the DCI-P3 color gamut, but at 325 nits on our light meter, it's not as bright as the competition.
With the screen brightness all the way up, I didn't have any issues. I watched the 1440p trailer for Blue Beetle, the heroes' blue suit and similarly-hued special effects popped on screen, as did green palm trees in scenery throughout the trailer. A red-hued scene in which the character fights some bad guys didn't look as intense as on some other screens I've seen.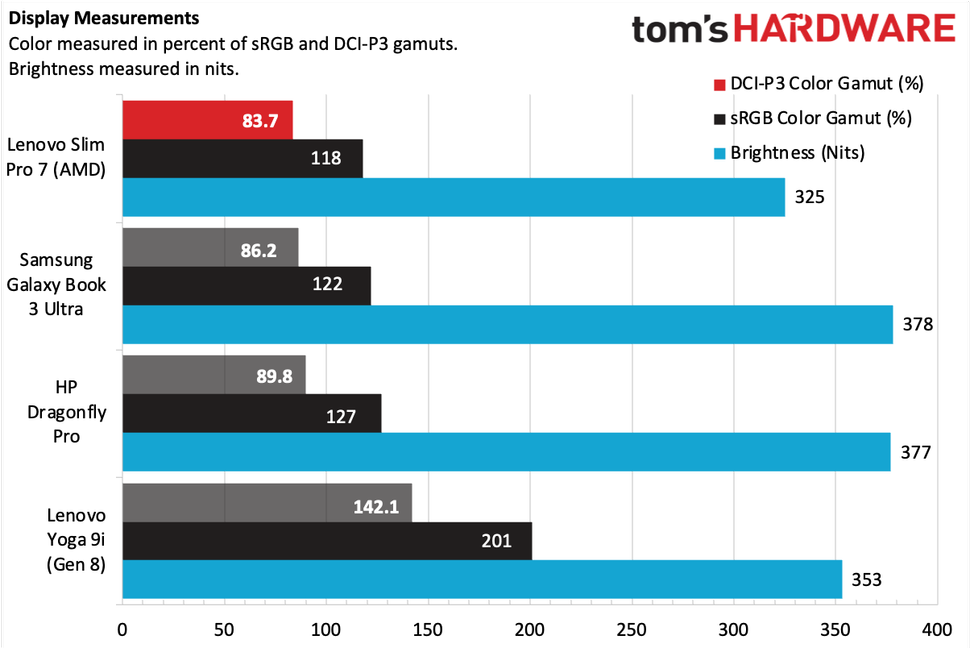 The screen comes close to the measurements from the Samsung Galaxy Book 3 Ultra and HP Dragonfly Pro when it comes to colors, but it wasn't as bright as those devices. The screen on the Lenovo Yoga 9i Gen 8 is an OLED screen, and it proved more colorful than the rest, though Apple's panel was the brightest.
Keyboard and Touchpad on the Lenovo Slim Pro 7
Lenovo's island-style keyboard looks and feels familiar. A sticker next to the touchpad promises 1.5 mm of travel, and I believe it. The keys have a bit of a bounce, and I never once felt myself bottoming out. I hit 120 words per minute on the monkeytype test with 97% accuracy. I could quibble that Lenovo's function keys, like a dedicated calculator or clipboard button, aren't as useful as media keys, but to each their own, I guess.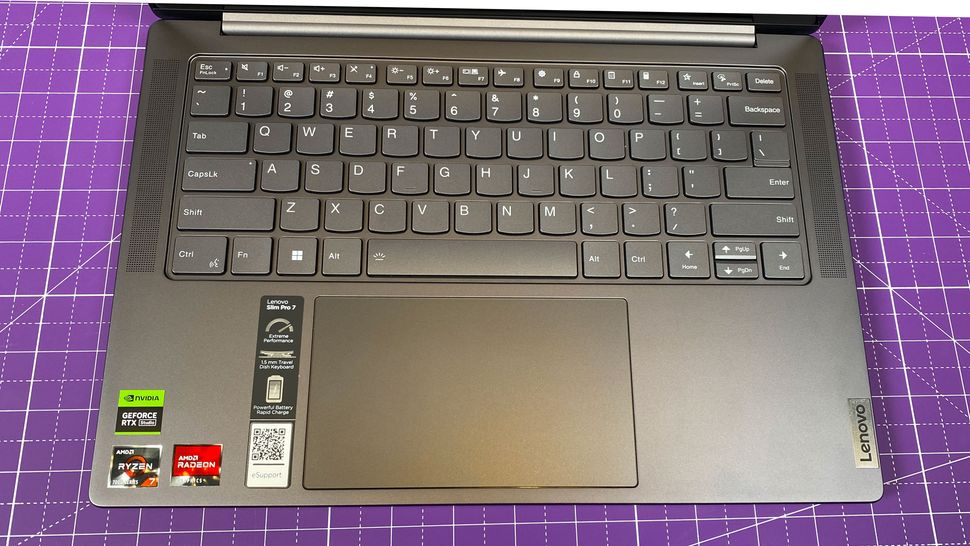 The touchpad is nice and wide, but it feels cheap. I had no issues with navigation or multi-touch gestures, but clicking is loud and sounds unpleasant. It makes the whole laptop feel less premium.
Audio on the Lenovo Slim Pro 7
The sound from the Lenovo Slim Pro 7's four top-firing speakers is adequate. If you, like me, occasionally like to listen to music without headphones to give your ears a rest, it'll do, though you may want to turn the volume up.
On the one hand, while listening to Linkin Park's "Fighting Myself," I had to boost the volume to 100% to fill the room. (On the bright side, there was barely any distortion). The rap and rock verses were equally vocal forward, with crisp, clear words. Those who prefer instrumentals may want to check out the Dolby Access app. Switching to the Dynamic preset, which changes based on what's playing, brought out more thundering drums and guitar.
Upgradeability of the Lenovo Slim Pro 7
To open the Slim Pro 7, you'll need a Torx screwdriver (the official maintenance manual suggests a T5 head) to remove the six screws from the bottom of the laptop. There are two in the back that are longer than the four in the front, so be sure to keep yourself organized.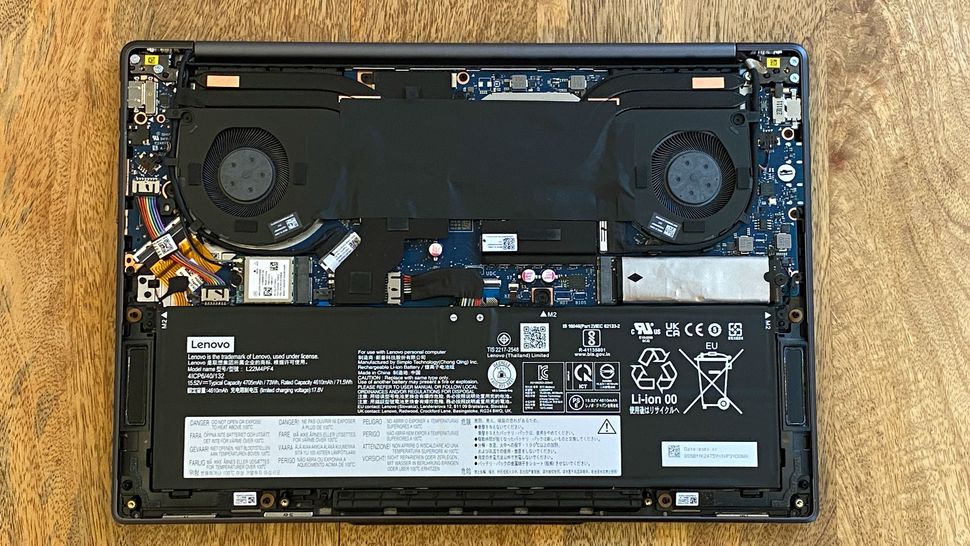 From there, you'll need to pry up the latches, first from the front, then the sides, and lift off the case. With a good pry tool, it's pretty simple. You'll see that the battery, Wi-Fi card and M.2 SSD are replaceable, but the RAM is unfortunately soldered down.
Depending on your market and model (Lenovo sells a similar laptop, the Slim Pro 7i, using Intel chips), you may have a full-length M.2 2280 SSD (like our review unit) or a shorter M.2 2242 with a bracket to hold it in place. Either way, you can remote it and replace it. The SSDs are covered in some mylar for heat protection.
Battery Life on the Lenovo Slim Pro 7
As far as systems with discrete GPUs go, the Lenovo Slim Pro 7 lasts a decent amount of time. The Lenovo Slim Pro 7 lasted 9 hours and 16 minutes on our battery test, which browses the web, streams videos and runs OpenGL graphics benchmarks while connected to Wi-Fi with the screen set to 150 nits.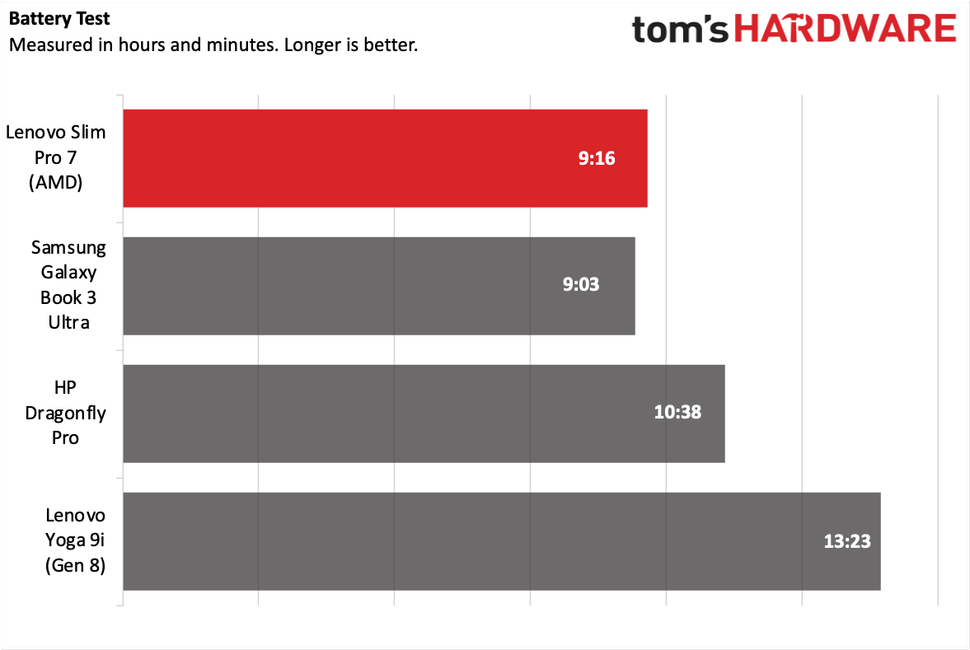 That's longer than the Samsung Galaxy Book 3 Ultra, which also has a discrete GPU, at 9:03. The Lenovo Yoga 9i (10:38) and HP Dragonfly Pro (13:23), with integrated graphics, lasted longer.
Heat on the Lenovo Slim Pro 7
While I ran our Cinebench R23 stress test, I took skin temperatures to get an idea how the Slim 8 Pro feels to the touch under heavy load. The fans spin, but the system can still get slightly toasty.
At the center of the keyboard, between the G and H keys, the Slim Pro 7 measured 43.1 degrees Celsius (109.58 degrees Fahrenheit).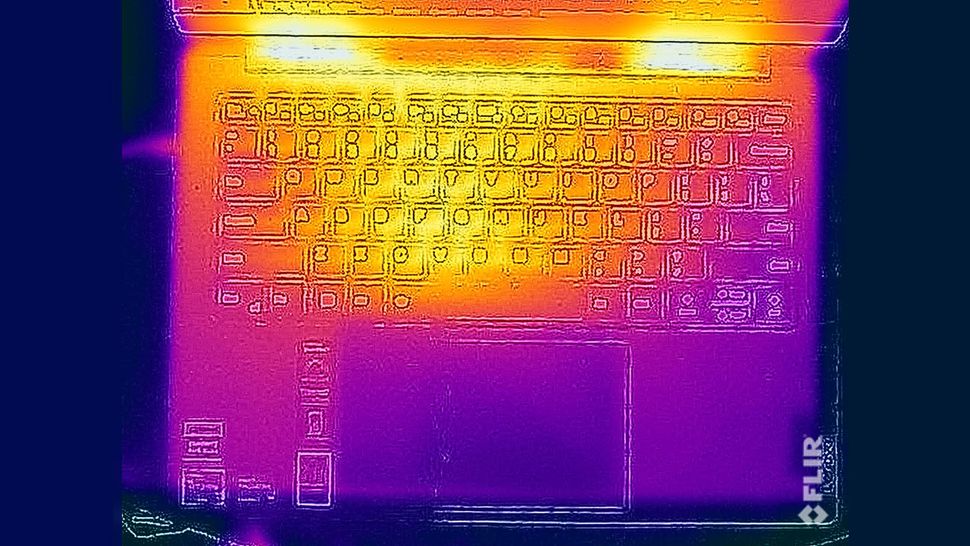 On the bottom of the laptop, the hottest point reached 51.1 C (123.98 F).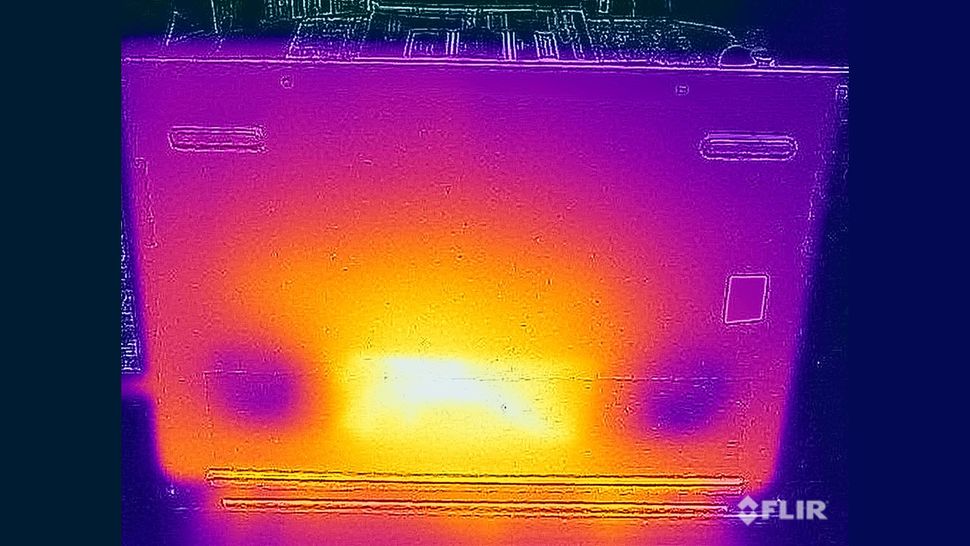 Webcam on the Lenovo Slim Pro 7
The Slim Pro 7 has a 1080p webcam paired with an IR sensor. I'm happy to see 1080p cameras proliferating through the market. They're not always better, but extra resolution rarely hurts. The IR sensor allows you to log in to the laptop using Windows Hello facial recognition.
While video from the camera looked decent enough, stills taken from the camera were a bit blurry, focusing more on the background than my face. A nearby window was totally blown out (that's a challenging condition), and some of the colors were a bit warmer than in real life.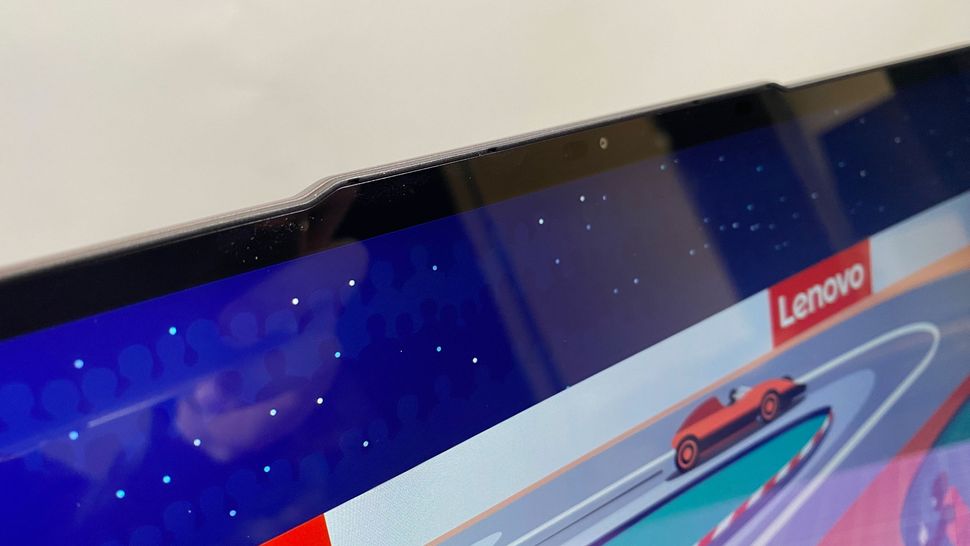 On the right side of the laptop, there's an "e-shutter" switch. This switch is effectively a high-tech way of covering up the webcam. It's not actually cutting power to the camera, but when you open software that uses it, it will act as if the lens is blocked. I personally prefer the built in sliders that cover the camera, as it's easier to see with a glance if the camera is covered or not (and psychologically, it just feels more protected).
Software and Warranty on the Lenovo Slim Pro 7
It used to be that Lenovo laptops came largely with its Vantage hub application and little else. Those days are gone.
Sure, Vantage still exists and it shows information about your hardware, serial number and lets you drill into a bunch of power and camera settings. It also now has articles built in. At one point while writing this review, there was a story about artificial intelligence and medicine which had no byline. Weird. Another provided "tips to keep kids safe in the digital age."
There are three other Lenovo branded apps on board. Lenovo Hotkeys, which exists solely to remind you of keyboard shortcuts to adjust system performance and the refresh rate (these are also included in the box), but doesn't let you set your own. One combination, the Smart Key, lets you pick software to launch. Lenovo Voice is used for voice commands and translation. It's a clunky app, and some of it requires payment to work, though that is hidden deep in the settings. Lenovo Welcome is meant for setup, but most of what you actually need from it can be found in Vantage.
Additionally, there's a trial of McAfee LiveSafe. McAfee has also made its way into the Edge bookmark bar, as has Lenovo and Lenovo support.
Like most Windows 11 machines, there are also links in the Start menu to the Microsoft store, including apps like Spotify, TikTok, WhatsApp, Amazon Prime Video, ESPN and Facebook Messenger.
Lenovo sells the Slim Pro 7 with a 1-year warranty.
Bottom Line
The Lenovo Slim Pro 7 is a thin laptop with a discrete GPU and a CPU fast enough for any single-core workload you want to throw at it. None of it is the latest and greatest tech, but it works, especially if you prioritize a slender design but still want a bit of oomph in the graphics department.
Look, if you want faster, more powerful graphics and performance, it exists in devices like the Samsung Galaxy Book 3 Ultra. But we tested that laptop at $2,399.99 — more than $1,000 over the Slim Pro 7 we checked out. So the Slim Pro 7 is also for customers seeking a discrete graphics card on a budget.
In some cases, it's premium, with a 2560 x 1600 display. But in other places, like the touchpad, it feels cheap.
Long story short, if you prefer a discrete GPU and are on a budget, this may do the job for you. But if you don't, consider competing ultraportables, like the Lenovo Yoga 9i,  for a bit of extra luxury.
MORE: How to Buy a Gaming Laptop
MORE: Best Gaming PCs
MORE: Best Ultrabooks and Premium Laptops