With many new 18-inch gaming laptops announced at CES 2023 back in January, you could say MSI was six years ahead of the curve back in 2017 when its Titan laptop had an 18.4-inch panel. Here in 2023 however, the company's latest Titan GT77 HX is wrapped in last year's chassis and 'only' has a 17-inch display.
So why stick with a 17-inch panel when your competition is moving to bigger (or at least taller) screens), especially when your product has Titan in its name? Well, 18-inch displays are still quite new, and so panel options are likely limited. By sticking with a more established screen size, MSI the company was able to deliver a gorgeous 4K Mini-LED display that may just be the best-looking screen I've seen in any laptop, period. 
Combine that with Nvidia's brand-new RTX 4090 and a 13th Gen Intel Core i9 CPU, then toss in a pleasingly clicky Cherry mechanical keyboard, and the Titan GT77 HX has a very good chance of earning a spot on our best gaming laptops list. We'll have to test it to know for sure but first, let's look at the laptop's design and specs. 
Design of the MSI Titan GT77 HX
MSI might call this laptop a Titan, but it's not the biggest laptop anymore — at least in terms of screen size. While some of its competitors are moving to 18-inch, 16:10 displays, MSI has kept the same chassis as last year, along with a 17-inch display.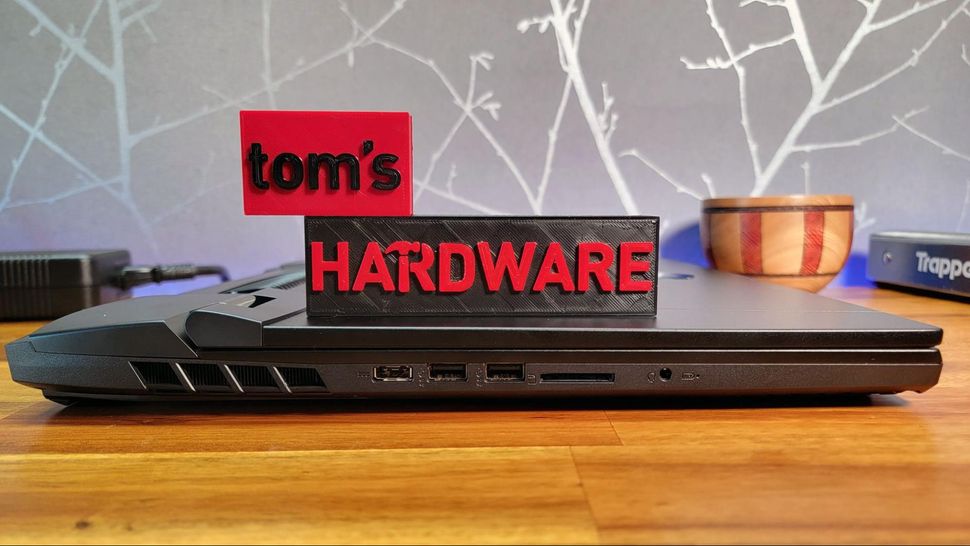 The Titan still brandishes a sports car aesthetic, with sleek curves, a prominent MSI badge and a few stripes and lines that look like you could slap a few tires on this thing to make it go fast. And as far as desktop replacements go, it's thin-ish at 0.91 inches thick. But while the front and top look like something out of Fast and the Furious, the back looks like MSI strapped a rocket to a car (maybe that's kind of Fast and the Furious, too). But there aren't any ports around back. The RGB-clad back of the device is all for dissipating hot air.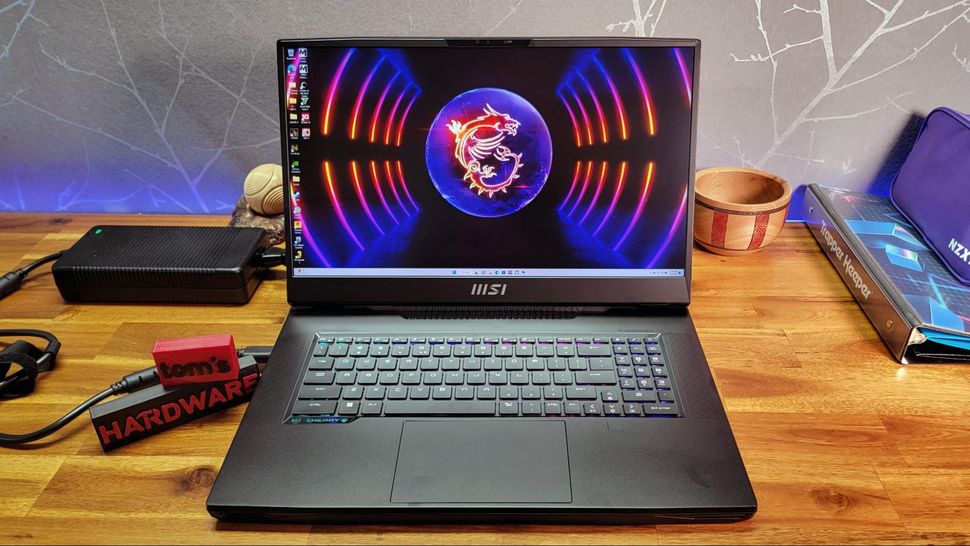 With the lid open, you'll find the 17.3-inch screen. The bezels aren't particularly large, with the exception of the one below the display. The webcam above the screen also comes with infrared sensors for the IR camera, and there's a fingerprint reader next to the trackpad. You've got options here when it comes to logging in and security.
The black metal deck is home to the Cherry mechanical keyboard (more on that below), which brings a ton of RGB personalization if you're into that sort of thing. But aside from some RGB in the rear exhaust, there are no light bars or other flashy features. The Titan GT77 HX's design is more classic (some would say classy) than options like the Asus ROG Strix 18.
At 7.28 pounds and 15.63 x 12.99 x 0.91 inches, the Titan is designed to spend most of its days on a desk. The Asus ROG Strix 18, with similar components, is lighter at 6.83 pounds but is longer and thicker at 15.71 x 11.57 x 1.21 inches. None of these RTX 4090 laptops are going to be particularly svelte or portable. Even the Razer Blade 18 is 0.86 inches thick and 7.05 pounds.
MSI Titan GT77 HX Specifications
Swipe to scroll horizontally
| | |
| --- | --- |
| CPU | Intel Core i9-13950HX (8 performance cores, 16 efficiency cores, 5.5 GHz max turbo) |
| Graphics | Nvidia GeForce RTX 4090 Laptop GPU, (16GB GDDR6, 175 max graphics power, 2,040 MHz boost clock |
| Memory | 64GB DDR5-4800 |
| Storage | 2x 2TB PCIe NVMe Gen 4 SSDs |
| Display | 17.3-inch, 3840 x 2160, Mini-LED, 144 Hz |
| Networking | Intel Killer AX1690 Wi-Fi 6E, Bluetooth 5.3 |
| Ports | 2x Thunderbolt 4, 3x USB Type A 3.2 Gen 2, mini DisplayPort, HDMI, SD card slot, 3.5 mm audio jack, Ethernet port. |
| Camera | 720p with camera shutter, IR |
| Battery | 99.9 WHr |
| Power Adapter | 330 W |
| Operating System | Windows 11 Pro |
| Dimensions (WxDxH) | 15.63 x 12.99 x 0.91 inches (397 x 330 x 23 mm) |
| Weight | 7.28 pounds (3.3 kg) |
| Price (as configured) | $4,599 for closest retail configuration (Core i9-13980 HX, 2TB SSD) |
Gaming and Graphics on the MSI Titan GT77 HX
On paper, the Titan is a monster. It boasts an Intel Core i9-13950HX (as tested) and an Nvidia GeForce RTX 4090. And in most games, the pairing shows significant performance gains over their predecessors. We looked at the GT77 HX alongside Asus' new ROG Strix Scar 18 (with the same GPU and a Core i9-13980 HX CPU) as well as last year's Titan GT77 (RTX 3080 Ti, Core i9-12900HX). We also included results for the Asus ROG Strix Scar 17 SE from mid-2022, which packed an RTX 3080 Ti and Core i9-12950HX as well.
As I would expect, the Titan GT77 HX had no issues handling Doom Eternal. As I played through the UAC Atlantica Facility portion of the Ancient Gods DLC, the laptop ran mostly above or near 100 frames per second (fps). I did see dips into the 80s (and rarely the 70s) as dozens of demons teleported into the arena-like level. But the frame rates never got low enough for me to visually register any performance issues. 
Out of the gate, the Titan had a strong showing on the Shadow of the Tomb Raider test (highest settings), delivering 180 fps at 1080p and 70 fps at 4K. The Asus ROG Strix Scar 18, with a Core i9-13980HX and an RTX 4090 hit 181 fps (effectively a tie) at 1080p and 124 fps at its native 2560 x 1600.
The Titan also outperformed on Grand Theft Auto V (very high settings), hitting 176 fps at 1080p (once again more than its 144 Hz screen could actually show) and 50 fps in 4K. The Strix Scar 18 hit 152 fps at 1080p and 132 fps at 1600p. Both showed improvements over their predecessors.
One odd spot for both RTX 4090 / 13th Gen Core machines was on Far Cry 6 (ultra settings). The Titan put up 102 fps at 1080p (71 fps in 4K) while the Scar reached 107 fps at 1080p (and 94 fps at 1600p). Those are both lower than the number we measured on last year's Strix Scar 17 SE (112 fps at 1080p).
In an ideal world, we'd still have last year's Strix on hand to test its Core i9-12950HX and GeForce RTX 3080 Ti with current drivers, for a more apples-to-apples comparison in Far Cry 6. It seems possible (if not likely) that the 4090 is so powerful that the CPU is bottlenecking performance at lower resolutions. We've seen this with Far Cry on the desktop 4090, too.
That being said, we're seeing this in one game, and we're not pointing fingers at Intel here; AMD's best CPU may also have similar issues. What this all seems to suggest is the RTX 4090 is really designed for a high-res display like the 4K panel on the Titan. (Asus's Strix Scar 18 tops off at 2560 x 1600). At the very least, if you're going to game with a 4090 at lower resolutions, you'll want to enable lots of effects and turn other settings up high. Gaming at 4K shouldn't cause this issue because the higher the resolution, the less of a bottleneck the CPU tends to be.
The laptops returned to normalcy on Red Dead Redemption 2 (medium), with the Titan reaching 127 fps at 1080p and 48 fps at 4K. The Scar reached 123 fps at 1080p and 85 fps at 2560 x 1600. Again, both of these are nice improvements over previous models.
MSI's new Titan finished strong on Borderlands 3, reaching 177 fps at 1080p and 71 fps at 4K. The Strix was slightly behind at 1080p (165 fps) and showed off 112 fps at its native 1660p resolution.
To stress-test the Titan GT77 HX, we ran Metro Exodus on its RTX preset at 1080p for 15 runs, which takes about half an hour. The system ran the game at an average of 100.76 fps, and after a higher first run of 103.33,  it stayed between a narrow range of 101.5 and 99.49 fps. The Core i9-13950HX's performance cores ran at an average of 4.15 GHz, while the efficiency cores measured 1.1 GHz. The CPU package measured a nicely low 74.3 degrees Celsius. Meanwhile, the RTX 4090 ran at 2,174.85 MHz and measured 59.3 C, which was also cooler than the similarly equipped Strix.
As you should expect with a system this powerful, the fans will be noticeably noisy pretty much any time you're gaming. That being said, the fans on the Titan produce more of a whoosh than an annoying whine, and for any action-heavy game, the speakers easily get loud enough to drown out the fans. 
Productivity Performance on the MSI Titan GT77 HX
A $4,600 desktop replacement should sure as hell be able to handle productivity tasks. Between the Intel Core i9-13950HX (as tested, see configurations, below), 64GB of RAM and 4TB of storage, it proved to be a strong machine in our productivity testing.
On Geekbench 5, the Titan achieved a single-core score of 2,071 and a multi-core score of 20,602, slightly edging out its closest rival, the Asus ROG Strix Scar 18 and its Core i9-13980HX (2,066 single-core, 19,233 multi-core). These are pretty close, and could come down to something as simple as cooling. Both 2023 models made leaps over prior generations.
The Titan transferred 25GB of files at a rate of 2,299.96 MBps, surpassing the Strix (1,885.81 MBps). (Note that the 4TB of SSD storage is reserved for MSI's highest end model. See configurations, below). Neither, however, hit the speeds from last year's Titan.
MSI's desktop replacement also took the lead on Handbrake, transcoding a 4K video to 1080p in 2 minutes and 38 seconds. The Strix Scar 18 took 2:49, and both took more than a minute off of the previous generation's times.
Display on the MSI Titan GT77 HX
Other than the gaming performance afforded by the RTX 4090, the 17-inch, Mini-LED 4K display is the Titan GT77 HX's other stand-out feature. And boy, does it stand out. MSI doesn't say how many local dimming zones this panel delivers, but I can say that its perceived black levels approach those of my LG OLED TV, and this panel gets a lot brighter.
The screen is HDR 1000 certified, and MSI says it can deliver up to 1,000 nits. That's definitely a peak number, achievable on just a small part of the screen at a time. Our test results below show a much lower number. But while I watched YouTube videos and did some gaming in my semi-darkened office, the screen was too bright for comfort at max, prompting me to turn it down after a few minutes of marveling at the intensity of the glow.
While watching the trailer for John Wick 4 I was drawn in by the strong stylized colors of the lighting in various scenes, which hadn't really stood out when I watched the trailer on a different display before. And the blacks of almost everything in the trailer that isn't dramatically lit, from Keanu's hair to the many, many guns, were gloriously inky in a way that, again, I've only ever really experienced from OLED panels.
Between the brightness and blacks, the vivid colors, the 4K resolution and the 144 Hz refresh, this may be the prettiest screen I've ever used on a laptop – and I've been reviewing laptops for over a decade. While more than a few competing systems now sport taller, technically larger 18-inch displays, it's doubtful that screens this nice exist for that size yet. If MSI decided to stick with 17 inches specifically so that it could deliver this screen, the company made the right decision, even if it makes the Titan name ring a bit hollow.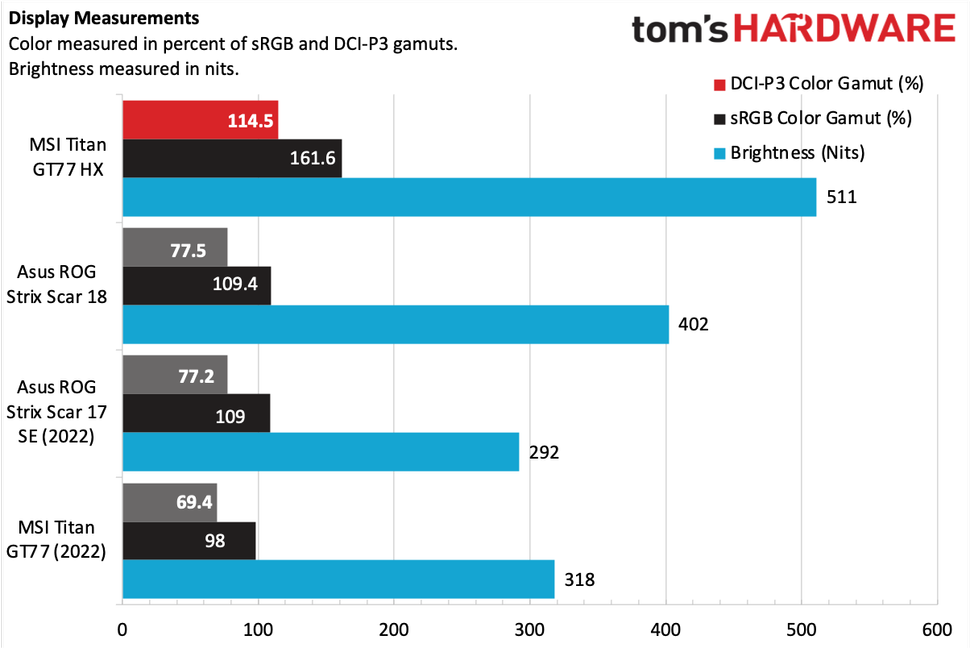 On our colorimeter tests, the Titan proved to be the most vivid screen of our test group, covering 161.6% of the sRGB color gamut and 114.5% of the larger DCI-P3 spectrum. The Strix Scar 18's screen may have size in its favor, and while we found it nice and colorful, it didn't meet the Titan's numbers (109.4% DCI-P3, 77.5% sRGB).
The Titan was also the brightest of our test group at 511 measured nits, while the Scar 18 measured 402 nits (which again, isn't shabby). Both were improvements over last year's panels. 
Keyboard and Touchpad on the MSI Titan GT77 HX
For gaming and general typing, the Cherry MX mechanical keyboard on the Titan GT77 HX is a pleasure to use – and thanks to per-key RGB backlighting, it also looks quite good. MSI doesn't specify which Cherry switch option is used, but judging by the tactile feel and lack of an audible click, it's likely the company is using the Tactile switch, rather than the Click variant.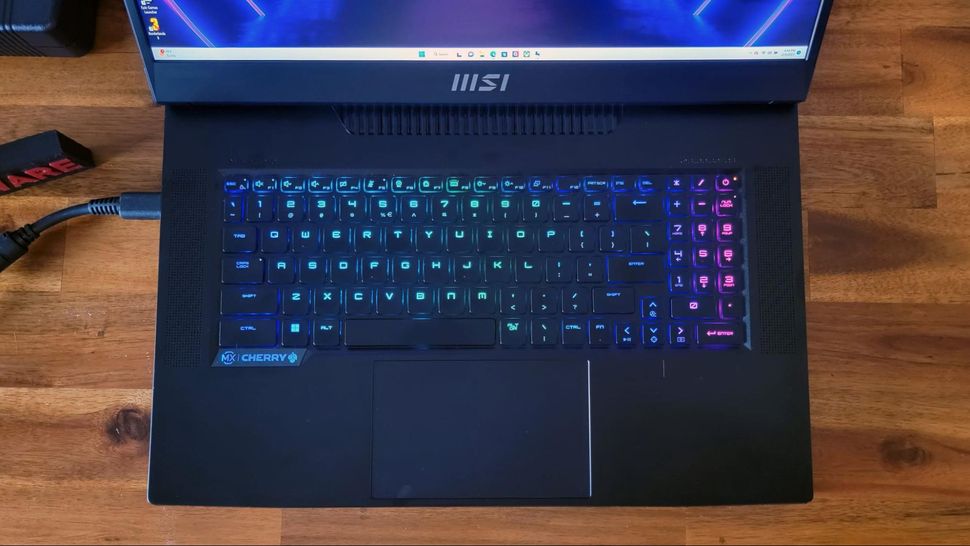 Looking at the layout, the right shift key is a bit short because it's crunched up against the arrow array, although this wasn't an issue for me while touch typing. The only noticeable downside of the keyboard for me is that MSI doesn't use mechanical switches for the arrow or number pad keys – and that's annoying because the arrow keys in particular are used in a lot of games. 
These keys are also significantly smaller than the primary keys. As a result, using the number pad in Excel felt more like keying things in on a calculator than a mechanical keyboard. There is room for improvement here, but I wish far more laptops offered mechanical keyboards like the Titan. 
While you'll of course want to use a mouse for gaming, the Titan's touchpad is pleasingly roomy at 6 inches diagonally. There's a fair amount of room for Windows 11 gestures, and the surface is just the right amount of smooth and slippery. The click mechanism is a bit shallow, but not in a way that bothered me while I was mousing around the operating system.
Audio on the MSI Titan GT77 HX
As we saw with the previous Titan, the GT77 HX's speakers aren't much to get excited about. They get reasonably loud, and handle basic gaming and media consumption just fine. But when I listened to my favorite test track, Buck-Tick's "Muma – The Nightmare," the underlying beat and bassline was getting lost in the mids and highs. In other words, there isn't as much low-end as I'd like – or as I'd expect in a large, high-end gaming laptop. I also craved a bit more volume – or at least I would if I could also add more low-end to balance out the highs.
MSI, as ever, bundles the Nahimic app for adjusting audio. But when I fired it up looking to improve my music-listening experience, I found the Music preset was already enabled. In short, the sound here is far from bad, but it isn't on the same level as the performance delivered by the silicon and the screen.
Upgradeability of the MSI Titan GT77 HX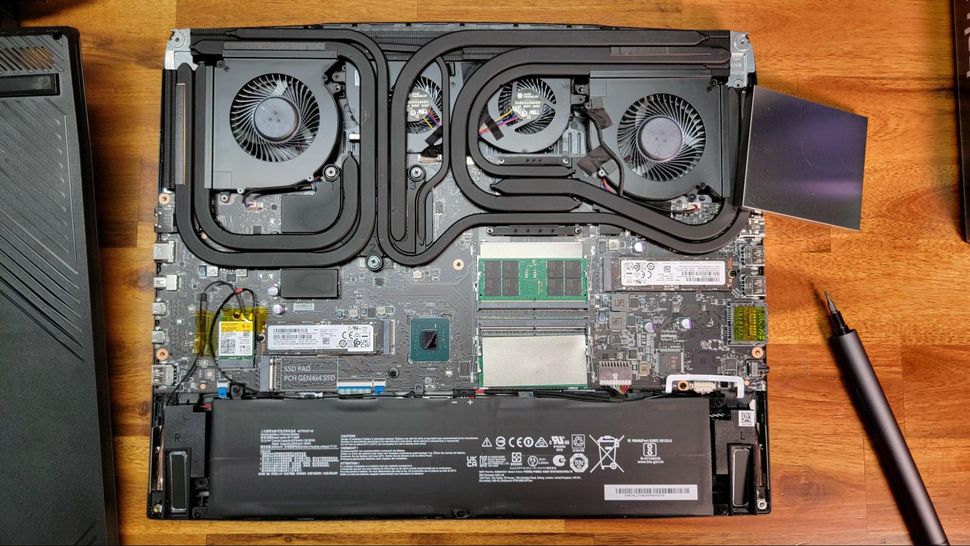 Getting into the MSI Titan GT77 isn't that hard, so long as you remember to completely loosen all 11 Philips head screws. I got about halfway through prying the bottom off (using my old laundromat card as a spudger) before I realized I'd skipped a couple. Once you get started on one side, it's fairly easy to work your way around the edges, loosening clips until the bottom lifts right off.
Inside, there's quite a bit going on. Like the last Titan, there are four fans and a highway of heatpipes, leading from the CPU and GPU to the cooling fins at the back. And the 99.99 Whr battery looks like it would lift right out after removing four screws and the connection cable.
In terms of upgrades, the RAM slots were hidden under a silver metal shield, but popping that off revealed two empty and two populated slots in our review unit. Two of the three M.2 SSD slots were occupied by PCIe 4.0 OEM Samsung SSDs, but there is a third empty PCIe 4.0 M.2 slot just above the battery. You could also swap out the Wi-Fi/Bluetooth chip. But what's here is an Intel Killer AX1690i Wi-Fi 6E (opens in new tab) card. So you probably aren't going to get much better until we start to see Wi-Fi 7 options, perhaps late this year or in early 2024.
Battery Life on the MSI Titan GT77 HX
The 99.9 WHr battery in the Titan's chassis can only do so much with its power-hungry components. When you're gaming, you'll definitely want it plugged in for full performance. When you're not gaming? You'll still probably want it plugged in.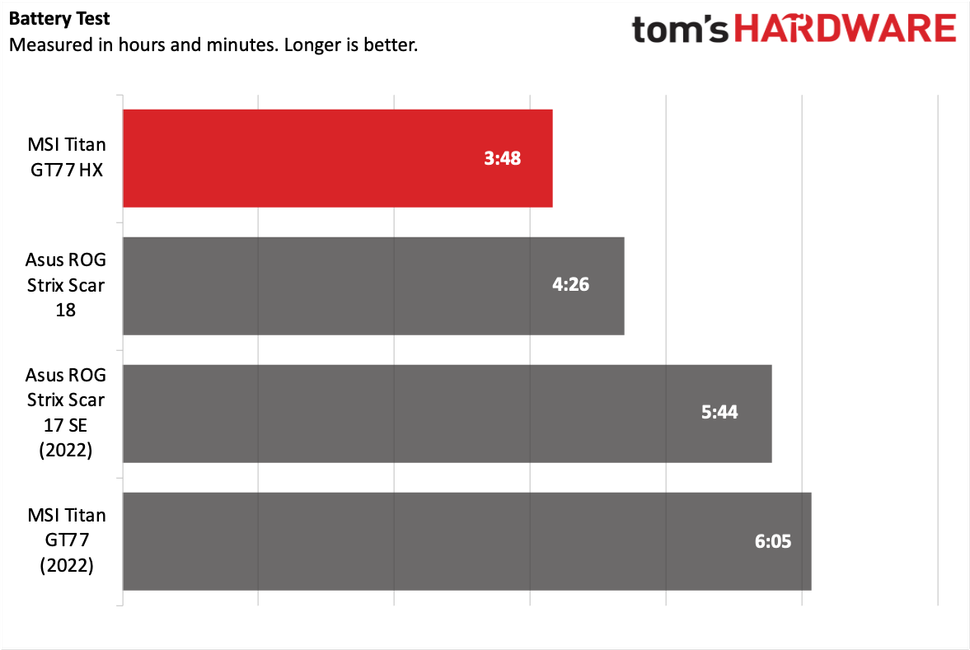 On our battery test, which involves streaming video, browsing the web over Wi-Fi and running OpenGL tests with the screen set to 150 nits, the Titan ran for just 3 hours and 48 seconds. The Asus ROG Strix Scar ran for 4:26, while last year's models had somewhat longer runtimes. In this case, desktop replacement means "don't take it too far from the outlet near your desk."
Heat on the MSI Titan GT77 HX
To see how hot the MSI Titan GT77 gets while gaming, we took surface temperature measurements while running our Metro Exodus stress test.
At the center of the keyboard, between the G and H keys, the laptop measured 101.3 degrees Fahrenheit (39.5 Celsius), while the hottest point, at 104.3 F (40.17 C), was between the minus and plus buttons. The touchpad remained cooler at 79.8 degrees Fahrenheit (26.56 C). The hottest spot on the underside of the notebook measured 111.1 degrees Fahrenheit (43.94 C).
Most of these temperatures are lower than what we saw when testing the similarly equipped Asus Strix laptop, although you'll probably want to keep both of these laptops on a desk rather than your lap, especially when gaming.
Webcam on the MSI Titan GT77 HX
What's left to say about a 720p webcam in 2023? The camera that MSI includes above the display works, it includes an IR sensor for Windows Hello login, and it's in the right place. But the image is grainy, lacking in detail, and the sensor doesn't deal with low light or light variations (for example, from the ceiling fixture over my head or a window behind me) well at all. At least there is a physical shutter so you can turn it off and opt for one of the Best Webcams instead.
Software and Warranty on the MSI Titan GT77 HX
There isn't much in the way of annoying pre-installed software on the Titan, but what's here can be confusing. Aside from the Nahimic program for tweaking audio, there's also MSI Center, a do-it-all program lets you monitor your internal hardware, scan for and install drivers, and back up or restore data. I expected to see Mystic Light settings in here for controlling the RGB keyboard as well. But when I didn't, I searched the system for a standalone Mystic Light or some other keyboard app, wondering if perhaps the Cherry MX branding meant some other software had to be used. 
It was only when I remembered that MSI has often in the past used SteelSeries keyboards and the company's GG software that I found the lighting and keyboard setting controls. SteelSeries GG is fine. But given this isn't a SteelSeries keyboard (in fact, MX Cherry is emblazoned in RGB below the left Shift key), it's odd to me that MSI is still using SteelSeries' software for its keyboard controls.
Aside from the above, you also get the usual pre-installed links and cruft pinned to the Start menu of Windows 11, like TikTok, ESPN, Amazon Video, Spotify and others.
MSI sells the Titan GT77 HX with a one-year warranty.
MSI Titan GT77 HX Configurations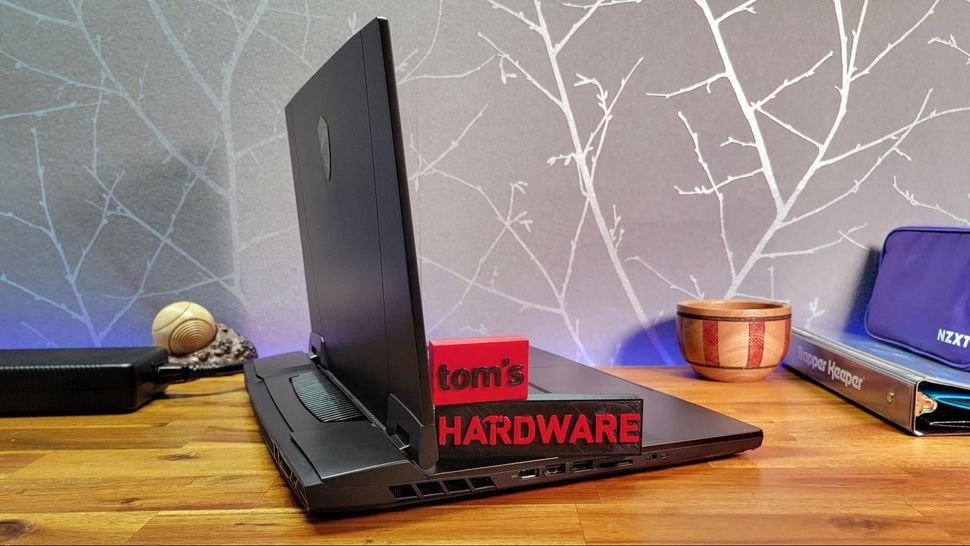 We tested the MSI Titan GT77 HX with an Intel Core i9-13950HX, Nvidia GeForce RTX 4090, 64GB of DDR5-4800 RAM and a pair of 2TB PCIe NVMe Gen 4 SSDs.
It ends up, however, that this won't be a retail model, though Intel tells us MSI was originally considering this spec at some point. The closest equivalent will have the Intel Core i9-13980HX, which can boost up to 5.6 GHz (that's 0.1 GHz faster than the chip in our review unit), and 2TB of storage rather than 4TB. Otherwise, our unit is exactly the same. That configuration costs $4,599.
The base model, if you can call it that, is $4,299 with an Intel Core i9-13980HX, Nvidia GeForce RTX 4080, 64GB of RAM and 2TB of storage, along with the same 4K Mini-LED 144 Hz display found in all of the Titans.
The top-end model is an eye-watering $5,299, with a Core i9-13980HX, RTX 4090, 128GB of RAM and the 4TB of SSD storage that came in our review system.
Bottom Line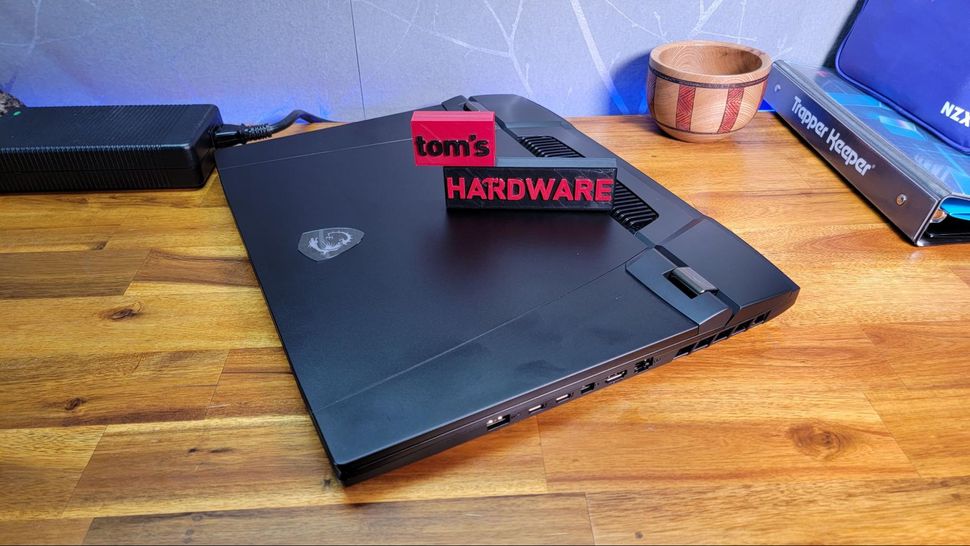 While the MSI Titan GT77 HX may not seem as titanic on paper as its 18-inch competition, it's arguable whether taller 16:10 18-inch screens offer any real benefit for gaming. And for media consumption, 16:10 screens are worse because you'll just end up with more black bars when watching 16:9 content. Instead, MSI found one of the best 17-inch screens I've ever seen and put it in its existing Titan chassis, alongside the latest and greatest silicon Nvidia and Intel have to offer.
The result is a laptop that may fly a bit under the radar in terms of its design. But its performance is better than any other laptop we've tested, while its screen will make all of your games and media look their absolute best. Your fingers will also thank you as they flutter across the Cherry mechanical keyboard. Just make sure to keep the big power brick close, because battery life is short, and you won't get nearly the performance that this Titan is capable of without it plugged in, anyway.
MORE: How to Buy a Gaming Laptop
MORE: Best Gaming PCs
MORE: Best Ultrabooks and Premium Laptops